Name: Aluminum back egg chairs.

Description:
1. The egg chair back could be made by alumium plate with clinch holders.
2. Modern classic egg chair. Reproducted high quality egg chair.
3. For saving materials or uphostery problem, most of reproducted egg chairs have an ugly sewing line on their back for leather upholstery.But our lether egg chair does not have sewing line on the back. It is more stylish and elegant than previous upholstery.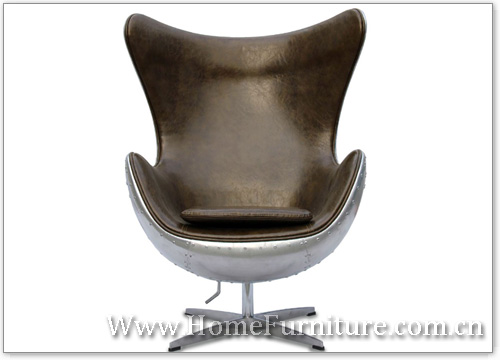 Featured Points for our egg chair:
1. Beautiful outward appearance egg chair
2. The uphostery on replica egg chair we used could be effective to avoid different color and pattern leather stay at the same place. Because the leather pattern and color often have slight differences by kinds of batch.
3. The cross point at horizontal of the egg chair sewing line and vertical sewing line often easy to be broken and has crack. The egg chair, which does not have vertical sewing line, could avoid flaw and brings a much better figure out.
4. Stainless steel foot or aluminum foot both are available for our factory.
5. The Egg is a chair designed by Arne Jacobsen in 1958 for Radisson SAS hotel
in Copenhagen